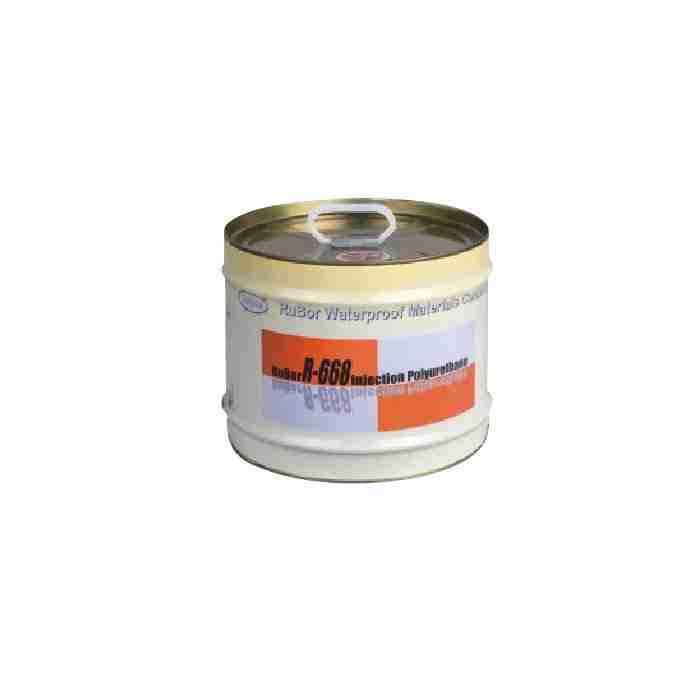 Hydrophobic polyurethane grouting material
| Appearance | Transparent Brown Liquid |
| --- | --- |
| Density | 1.132 g/cm3 |
| Viscosity | 290 mpa.s |
| Nonvolatile Content | 83% |
| Foaming Capacity | 2295% |
| Time of solidification | 515s |
| Compressive Strength | 28 |
_
Best quality of R-668 Hydrophobic polyurethane grouting material / Polyurethane (chemical grouts) is a single component , low viscosity, hydrophobic water cut-off grout and soil stabilization grout based on a MDI (Methylene Diphenyldiisocyanate) polyurethane, it is a closed cell polyurethane foam injection resin .
Injection material(hydrophilic polyurethane grouting material)
| Appearance | Transparent light yellow liquid |
| --- | --- |
| Density | 1.112 g/cm3 |
| Viscosity | 760 mpa.s |
| The times of absorbing water | 86 s |
| Nonvolatile Content | 81% |
| Foaming Capacity | 552% |
| Gel Time | 54s |
| Water swelling ratio | 77% |
_
Chemical grouting for water stopping repairs and soil stabilization for commercial, industrial and infrastructure applications , this product injection materail (hydrophilic polyurethane grouting material) / Water soluble PU is a Single component, low viscosity, high flexible hydrophilic polyurethane gel injection resin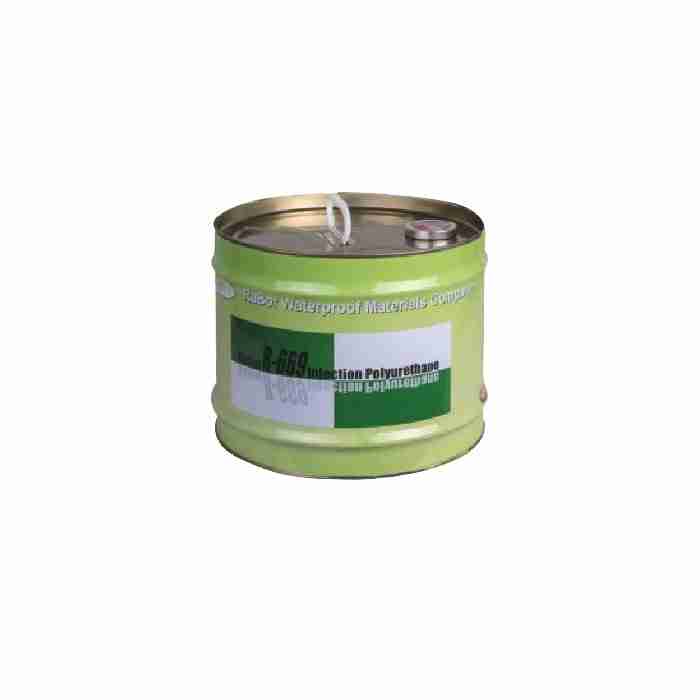 | Model | EP-02 |
| --- | --- |
| Appearance | Colorless transparent or light brown transparent liquid |
| Mixing Ratio | 5:1 |
| Shear Strength | 7.2 MPa |
| Tensile Strength | 25 MPa |
| Compresive Strength | 72 MPa |
| Bonding Strength | 4.1 MPa |
_
Professional Manufacturer of  epoxy resin is a low viscosity, two liquid, room temperature cure epoxy resin for injection repair, fast bear of weight strong adhesion, widely used for reinforcement and anti-seismic of tunnel and subway.
Hydrophilic Polyurethane Grouting Material
This product is a single component, low-solvent structure flexible polyurethane grouts, it can be rapid expansion once react with water , and seal the crack; it can also be used in conjunction with the small amount of catalyst according to the actual construction requirments to adjust the reactive speed,  then get the perfect waterproof effect.
Hydrophobic Polyurethane Grouting Material
Hydrophobic Polyurethane Foaming Agent is a single component hydrophobic water cut-off grout and soil stabilization grout based on a MDI (Methylene Diphenyldiisocyanate) polyurethane. The cured material is semi flexible and of a constant volume. Since water is not a component of the foam structure, the cured material is essentially not effected by water or dryness. The reacted material does not shrink or swell.
EP-02 Epoxy Resin
Rubor epoxy resin is low viscosity ,double liquid, normal temperature sclerosis products, mainly used in crack repair of concrete structure , After hardening, low heat release, small shrinkage, excellent adhesion to various structures, especially to the concrete. By means of mechanical perfusion (high pressure) or syringe injection (low pressure), it can be deeply penetrated into cracks of the structure, the effect of repair and reinforcement can be fully achieved, and restore the integrity of the structure, achieve the purpose of integration. it is also the reinforcement products of tunnul and Subway.
PU Foam Agent Character
The low viscosity in contact with water from a chemical reaction immediately and foam expansion.Ultra structural reinforcement,
high expansion ratio, toughness good, not contraction.
And substrate adhesion and chemical resistance (resistance to drinking water, sea water, wastewater dilution of the acid-base chemical supplies)
Contact with the drinking water of the region can also be used.
Used with single liquid high pressure grouting machine and other equipment.
PU Foam Agent Advantage
Good chemical resistant performance
Ultra-structure of elastic foam colloidal reinforcement
Good flexibility
Strong adhesion with the substrate
For single-fluid high-pressure grouting machine
Epoxy Resin Character
Specific gravity: 1.16±0.05
Mix ratio: base resin A:curing agent B=5:1 (Weight Ratio)
Valid time: 30mins (23℃±2℃)
Initial hardening:5 hours
Totally hardening: 3-7 days
 Application
Filling the tunnels, dams, basement, brick wood, dry, wet concrete member crack, actual bond all contact surfaces.
Crack injection for pressure  groundwater flow, with the use of catalysts to the formation in 2 minutes(water-based) , 10 minutes (oil-based) after contact with water can be completely foam expansion and solidification.
 Attention
Wear protective equipment (gloves, masks, goggles) to avoid skin perfusion when in direct touch
If the fluid is smeared on your skin, wash it off immediately and clean up with flowing water.
If the fulid splash in to your eyes ,you should wash it with plenty of water and seek medical care immediately.
Storage
Recommended temperature for storage is 10~30℃ with no moisture. Keep it in cool and dry area. it can not be exposed under the sunshine and high temperature. shelf life is about 6 months in sealed condition.  Once seal is removed, then use it as soon as possible.
Share This Page, Choose Your Platform!